Birds chirping, the rose pedals illuminating the atmosphere with it's beautiful smell, and the crunch of the
ground. Imagine taking a hike through a vast wilderness with the fraction of light peeling through the tress and mountains glazing over you, and the sounds of leaves chiming right past your ears.
Now imagine the same scenario, but with back pain. 30 minutes into your adventure, you feel a rush of ache and pain in your lower back. You keep pursuing forward and think that it'll go away with every step you take, but it sits tight, and doesn't go anywhere.
Back pain is something every person will experience at least once in their lives(over 80% to be exact). Learning how to hike with your lower back pain will help you still enjoy your next hike, and be transparent in helping your prevent it.
I know far too well what it means to hike with back pain, but asks me if it stops me. I'm surrounding by eye gazing nature, and majestic landscapes here in Washington, it's only wrong that I call it quits. If I didn't prepare beforehand, and manage it during my greatest hiking moments, I'd seriously be sitting at home wondering what if.
In this article I'm going to help you prepare before you hit your next trails, and I'll show you what you need to do during hiking with a bad back. You'll also learn:
The Top 11 effective ways to hike with back pain
Some after bonus thoughts and tips
Let's jump on in.
Hiking On A Mouthwatering 11 Tips
If you could wave a wand around your back to cast a magic healing spell and it worked, who wouldn't try it right? Unfortunately, there are n magic tricks to preventing yourself from having an aching back. However, there are some pretty useful things you can do before and furring your hike that will help you greatly.
Speaking from experience, one of the most important parts of hiking is having to prepare your body for it. If you've never hiked nor exercised, trying to complete a 1500 ft elevation and on a 10 mile trail will end in ba-ba bad! Really, bad.
Luckily, with my trails and tribulations, I promise to not let that happen to you. Here are the 11 action packed tips on managing back pain with your hike.
1. Stretch
Heck, forget stretching only when you feel like or, stretching should be done before any physical activity, no exceptions. This general rule of thumb is the standard for loosing your muscles and joints. When you hike, you're usually on an incline going upwards, and this motion from a physics perspective, will place a lot of tension on your lower back muscles such as your:
hamstrings
glutes
thighs
hips
pelvis
…And that's not to leave put your spine. If you're muscles are tight, you'll experience a cramp or a slight muscles spasm that'll eventually cause your legs to buckle.
The spinal cord is made up of a complex amount of muscles, ligaments, joints, tendons, tissues,and bones. Regular stretching will keep your muscles loose while lessening the impact and pressure on your joints, therefore increasing the blood flow in your body.
During your hike, if you feel the need to stretch, make sure to find a flat and level surface, and you can use a tree or your partner for holding you stable if need be. And remember, after a high-impact activity like hiking, don't forget to stretch when you're done.
#2 Exercise
When you exercise in a controlled environment and with the proper techniques, there are a huge amount of benefits for reliving your back, including:
Minimizes the risk of injury
Releases endorphins
Strengthens your muscles
improves blood circulation
relives stiffness
makes your joints stronger
improves your posture
gives you a stronger mindset
Whichever exercise and workout you do, it should be tailored to your needs and unique capabilities. A good workout program will include safety, abilities, pace, and your consideration for your symptoms. If you have severe chronic back pain, it's best that you stick to low impact activities such as walking, and or swimming.
If you have more mild acute lower back pain, you can proceed with regular exercise, just be aware not to go full throttle from the start.
#3 Try Out Yoga
We've come far with exercise, so far that at one point, yoga used to be only a thought for hippies. That's farther from the truth now, as research shows that yoga can improve:
Strength
flexibility
mindfulness
breathing
If you haven't tried yoga out, I want you to pause what you're reading, look over at your URL search bar , type in YouTube, and search, yoga for beginners. You'll be amazed at the results and endless possibilities you have to heal your back.
Yoga is not only a great way to stretch, but exercise too! Most poses involve the use of your body to move, and the more mobile you are, the more of a workout you'll get. I'll tell you right now, yoga is the best way to get rid of your lower back pain, bar none. Do it before you hit the outdoors, and if you do it while looked over by mother nature, your mind will feel so much more relaxed…
What I mean by that is on most hikes what I like to do before is bust out a couple of yoga poses, and in the middle of it, slow my mind, and feel one with environment. This would be great for you because it not only loosens your body, it provides you with:
less stress
better breathing
better control over your emotions
#4 Wear A Backpack that Fits For You
A suitable backpack is the difference between going home and continuing the good fight. Your backpack is the first pit stop to address if you're hurting from lower back pain on your hike. Have to heavy of a backpack and your spine and non-specific lower back muscles(non-related to your spine) will fall underneath you. The best thing to do is to eliminate useless weight.
The shape of your backpack should not be over arched and you don't want to be leaning forward with it either. I know as a hiker and someone who likes to camp, it's easy to fall in love with the "more the merrier" concept, so we get those large over our head bags, and oh how we love to over-pack.
I've never had a time where I didn't over-pack, I'm the worst at it. If I'm going to and coming back from a location in the same day, I seem to throw all hands on deck, and fill every pocket and until my bag can't zip up. Plan ahead of time…
If you're just hiking for a short day, take necessities such as:
container of water
small snacks
a pocket knife
an extra layer of clothing just in case
And anything else that may feel featherweight, feel free to do so, as long as you're not having to hunch over or are overarching. When looking at backpacks, consider the following:
Your hip size
Weight
shoulder straps
the sternum straps
your torso length
the amount of pockets
small or large
travel vs general backpack
Hiking with your backpack might feel good after the first couple of miles, but be aware that as you go through the main course of the hike(with bumps, turns, and inclines), you'll begin to feel your symptoms.
#5 Wear good footwear
What you cover your feet with comes down to a small margin. You always want to have a good pair of shoes or boots on you when you're hiking. Those old worn out shoes in your closet might be the reason that's causing your lower back pain.
Wearing worn out shoes may mean that your soles are in bad shape. The soles make up the bulk of your shoes, and is the extra layer of padding between your feet and the hard ground. Speaking in Kinetic energy, when one part of your foot moves, the other moves in relation to it, and describes how your muscles and joints work well together. In English, It means one part of your body affects the other parts of your body.


Your shoes are the start of this kinetic energy, and if you don't have the right soles, durability, and arch, it'll certainly lead to you having back pain, or cause it to worsen. Make sure to always use a good pair of shoes that will support your movements, and where you can get a good arch.
Here are my own put to use and a little torn and beat up hiking boots: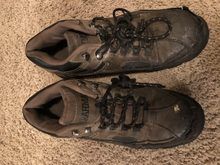 #6 Have Anti-Inflammatory medication
Pulling one of your lower back muscles or having achy joints is a way to ruin your day really quick. No matter where you go, how far you hike, you should always pack a first-aid kit and in it have more than just bandages and wrap, think about:
Creams will work absolutely great f primarily your muscles, but also work well on your joints, whether it be mild or painful symptoms. I highly advise to re-frame from using pills, as they can cause side effects while you're up and moving, but something as light as ibuprofen can be helpful in moderation.
Using anti-inflammatory doesn't mean it will completely eliminate your back pain, but it will lessen the pain, and make your hikes more reachable and enjoyable.
#7 Have Good Posture
The #1 cause for back pain is not an injury, a fall, or a twist or turn, believe it or not, it is a lack of posture. Poor posture will prevent you from keeping your back straight when you hike. And in most cases cause Sciatica.
For example:
If you're hiking upwards with poor posture, it'll be tough for you to keep your back upright, and instead you'll be hunching over, causing your spine to curve and place a strain on your disc and hips.
On the other hand, having good posture will prevent back pain and future episodes of it. When you are standing up and walking, your back should be straight, shoulders back, your knees slightly bent. A person with good posture will have a mi of a balanced back, and a straight aligned spine.
You can work on your posture throughout each and every day, and maintaining it is just as important so don't stop once you reach it.
#8 Spread the load evenly
Carrying the right load is as important as having the load centered on your back. If you're carrying a backpack it's important that you have the heaviest weight closest to your back. This will help keep the load stable and keep you from bending backwards or falling on your sides.
Just think about it, If the heavy weight was towards the outer side of your back pack,by gravity and force, it will push you backwards or cause you to tweak to one side more than the other.
#9 You Can Use Trekking Poles
Yes, The amazing poles that looks like your on skis, but on land. These are another great way to reduce pressure and impact on your:
back
arms
hips
hamstrings
pelvis
shoulders
neck
arms
knees
Research shows that trekking poles will reduce the pressure in your joints, back, while limiting tear and wear on your back. Trekking poles are very helpful for terrains that cause you to cross waters, rocks, and rugged terrain.
#10 Bring Sleeping pads or bags
The last thing you want is waking up with an achy and painful sore back. Let's face it, sleeping on the ground will not be an option, and truthfully, not the most comfortable place to lay on, especially if there are sticks, leaves, dirt, and rocks. Adding a sleeping bag or pad will help you substantially.
If you do suffer with back pain, there are ways to transfer that pain away when you lay down and get some much needed rest. I'd pack a pillow with you.
When you go to sleep on your side, place a pillow in between your knees
Laying on your back, place a pillow just under your knees
As a stomach sleeper, place the pillow under your knees
At all cost, avoid sleeping on your stomach if you can, it can aggravate your spine, and cause a greater chance for aches and pains.
#11 Bring A Decent Meal
By a meal, I do mean snacks. After all, will you highly likely be busting out a first course entree meal on your hike? Likely not. If you have back pain that just persist and is more in its chronic stage, you should focus on preparing healthier snacks.
All too often, saturated and full of sugar foods will cause a spike in inflammation, and trust me when i say, it doesn't feel good at all. I know its not a hiking experience without the marshmallows, the graham crackers, and sometimes the fairy tell stories. Bring a little, but eat in moderation. Try to:
pack a whole wheat bread for sandwiches
non salt chips
fruits
vegetables
water
vitamins
Healing foods will do more for you thank you probably think right now.
A Couple Tips that go UN-NOTICED
Your out hiking, and imagine there are too many variables that would restrain you from finishing your hike. Now wouldn't that be a disappointment? Before you go out on your hike, know your location. Here's the "why" to that:
You'll know your terrain. Knowing your environment will help you better understand what lies ahead in your walk. There could be extra dirt, trees, many climbs, and large downhill turns.
You'll also know how to dress and pack for the journey ahead. Let's say you had a couple miles to walk vs 7-9 miles, this a huge tall tell sign that you should pack extra medical equipment vs accessories that are not required.
You will know what the weather forecast for that day will be. The weather is a large component in your hike! Lets say you were walking through rain for example. The ground could get muddy, and cause your motions to slow down, and force unnatural and unnecessary movements. If it were clear or sunny out, It will be 10X safer to hike in than having a landslide of water coming at you before you knew it.
Here is one of my favorite locations here in Vancouver, WA that I spend almost every spring, fall and summer hiking through: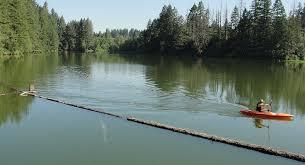 And here is the actual work of a complete hike itself:
It's called Lacamas lake as you can tell, and it's a true beauty to look at if you ever get the chance here in Vancouver, WA. Although I've hiked through many other terrains, this will always be the place I resign-ate with the most.
What to look out for in your hike?:
Many times I get the question asked: "What should I look out for when on my hike?" And how do I reply? With: "Always look 10ft ahead of you. If you were like me and you had to go through driving school, you were taught to look 10ft ahead. The reason this is proven to be helpful is because you'll spot out:
Hazardous trails
Cliffs
Ponds/lakes
Animals
Rocks
What About After your Adventure?
You think this would be a hiking article with just doing your part before and during a hike? Heck no! I want to make sure you leave the way you started, in great health, and even better if you're feeling like a muscle, joint, or more specific spine pain is hurting you.
A couple action packed plans for you are already setup! Check them out:
Action plan #1
After you've succeed pushing and powering through your hike, you need to let your warrior inner self settle and relax for a bit. Make sure you drink some water to replenish the nutrients that you've lost, and to get your spinal disc all the water they need to increase lubrication around your facet joints and your vertebrae. This is really important because water alone will allow for your muscles and joints to stretch.
Action plan #2
In this alternative option, if you're feeling like you need to add on extra relief immediately, what you can do is have a cold and hot pack ready. What this does is, the water reduces your swelling and heat will promote better blood circulation to your area of pain. It's similar to a pain relief cream, but without the need to stock up on over and over again. But a pain relief cream will be the second alternative to a cold and heat pack. Whether it's your muscle or joints, you can find the right pain relief cream for you here.
Action plan #3
This is a plan that I'm way too familiar with and it is the one when I get home. We've covered what to do right after your hike-like seconds and even minutes after( when you're in your car, sitting down, etc). But what would it look like on your ride home and once you are at your place?
One problem I've always had is the ability to maintain and keep my posture straight 24/7(more like a couple hours). An action I take when I'm in a vehicle or any form of transportation is to have a seat cushion ready. If you're pain is like mine where it is chronic, this will super handy. As a brief overview, what they do so well is:
create space in your vertebral disc, so you don't have to worry about feeling pressure in and around your spinal nerve.
you'll get immediate relief from the lower region, such as your hamstrings, pelvis, hips and buttocks. This is huge because it doesn't shift all the load on your spine
You get to align your spine, so by the time you get to your next part of the day or night, you'll be feeling great, and there will be no achy back to worry about.
There are two types of seat cushions, the ones for your lumbar back, and the ones that you sit on top of. Both will add extra comfort and pressure relief. Here's how they can be used:
Place just the back cushion against your car seat
Place your bottom cushion underneath
Or you can use both at the same time!
I like using both at the same time, but over time, I've been just used to favoring the back rest over using both. If you'd like to see my article on the right back cushion, click here. And if you want to learn more about bottom seat cushions, check out this article for more information on all the best seat cushions, or you can simple view the review of the one I have here.
You've Made It Back!:
Good job, you've done your best with having a bad back, and now you're back safe and sound in the comfort of your own home. Whether you had time to fix your back on your ride back or not, there are something you might want to do to treat your bad back. Why?
There is a high chance that your muscles have not yet rested, and your joints are exhausted. What you can do are a couple things:
Option #1: Use more pain relief cream
This is a great alternative to using pain medication. If you use the right cream to get to the root of your cause which is inflammation, you'll have success at having less and less of inflammation over time.
Option #2: Massage
A do it yourself massage is a great way to bring down your stiffened muscles and improve your mobility in and around your home. Check out how I massage at home here. And according to the Spine-Health Institute targeting the right muscles can help you correct your muscle tensions and strain.
Option #3: Stretch
It's been a long day out on a hike and you want to do is rest right? This will not be smart, especially if you have hours still left in your day. What I like to do when I get home is do a simple light yoga stretches to improve my flexibility, muscle strength and give my bones, muscles, ligaments, joints, and tissues the support it will need for the next day. It helps to not have achy muscles the next morning right?
Option #4: Use your seat cushion
Here's the one I'm using: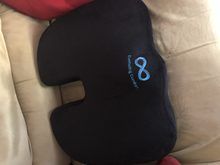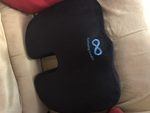 I'm one of these people who likes to sit, a lot. And I had to adjust ergonomically for it. That's one of the largest reasons I had to by myself a seat cushion, so I can sit for longer hours, and not have to worry about my spine being in any pain what so ever.
Option #5: Use essential oils
My second favorite natural remedy to herbs has to be essential oils, and why? Simply because they have so many health benefits:
Keep your muscles and joints loose
Remove stress, anxiety, depression, and other emotions
Are very potent, so you can expect to feel calm
My favorite use for them are at home, especially during the night. I find that before sleep, the delightful smell with its therapeutic healing, helps not only calm me down, but get me through the night. You can learn about essential oils in my article here if you'd like.
For more information about treating your bad back at home visit our how to at home page here.
Final Thoughts
---
The reality is that back pain can stop you from taking any actions, but it doesn't have to stop you from hiking. Back Pain comes in a ll different shapes and sizes, and everyone will feel it differently. Managing your own back pain starts way before you take a step into your hike.
You should be mindful of your surroundings,know the landscape, and prepare for the environment in which you're taking your next adventure to. I love hiking, especially here in the great pacific northwest. It's a great way to clear your mind, and just escape from it all.
I hope that these tips and experiences from me have taught you something, and that next time you take your next hike, you'll be indestructible.
If you have any questions, or if you would like to reach out to me about anything, please leave me a message below. I'll make sure to get back to you right away!