Don't get this part I'm about to share with you TWISTED okay?
I might be sitting snug in my couch at the moment, but I'm also about a foot deep in!
If my buttocks could talk, they would be yelling in a cry for some serious help(SERIOUSLY).
Seat cushions and Back Pain are a Match Made in Heaven or…I won't say the opposite of that.
Many people like myself are buried with the same face cringing and eye rolling quench…
Ouchyyy, My BACK!…
In a matter of fractions, you're reaching for what's become your quote on quote "favorite pharmaceutical drug", and you're back to where you started, more resting, more sitting, and now you've left out the rest of your to do list for getting your back on track.
Whether your back pain came about sitting in an awkward or position, if you are having on going lower back pain, from poor posture, weakness in your legs and nerves, there's one thing that's for sure…
It's a major setback. But there's no need to feel let down, and there will definitely be no room to worry after you see what's about to soothe and still let you live the lifestyle you desire. It's not with a chair, a recliner, an expensive new couch, but A Seat Cushion.
Here's what will be covered:
How A Seat Cushion Saved My Life
What are seat cushions
There versatility
How to choose a seat cushion
The Best of The Best
If at any point in this article, you find that you have a concern, or if you want to leave me a question, please leave me a comment down below. I'll make sure to get back to you before you know it.
Now, to the fun stuff we go!
How A Seat Cushion Saved My Life
I know you don't care about me and I want to make this as little as possible about me as I can, but I have to tell you how a seat cushion came about to save my life…please bare with me, I promise it will apply to you.
For those who already know me, this will already sound familiar, but if you're someone who I haven't yet talked to or met with, I want to share with you something special.
This is me:
Yeah That's the 20 year old version of me in College as a Divsion 1 soccer athlete. I'm 26 right now, and in 6 years so much has changed…
At that time all I wanted to do was play soccer and get in and out of the classroom(like any other freshman would). And so I was at the pinnacle of my career until I hit a HUGE Low.
During a soccer game, I went up in the air for a 50/50 challenge, and on my way back down with gravity, I squashed on my back…
Oh Boy, It Hurt. No, I didn't break my back but I severely injured it, I just didn't know it. So I was sidelined, and taken into the physical therapist trainer of the team. I knew I felt something, but I just didn't have the proper diagnosis.
So what did I do? I went on with my business right, Ice and Heat, Have some ibuprofen, it'll all clear up by the next day. I honestly couldn't sit the rest of that night. 4 more painkillers sitting deep, I almost knocked out from how drowsy I was.
The next day, I went about my business not understanding why I couldn't walk, let alone sit and stand. I had classes to get to so you know the stubborn young me I was at the time.
I went another day of pain, until 2 days after I got checked and I had a Herniated Disc. The time prior to that I was already dealing with a degenerating disc with some joint pains, and now to this.
I had many acute flare ups but this was no joke. So I shifted from Ibuprofen to Opioids. Literally for months this was my medication and lifestyle. A day felt like a year, a year felt like lightyears….that's how I thought about getting better. But it changed when I was open to the idea of proper ergonomics…
Listen, I know how that sounds…what about a diet, exercise, natural remedies, stronger thinking?
Those are all an integration in my life, but the spark was really ergonomics. If I was not able to perform a certain stretch or yoga pose, guess what was there?
You guessed it, a Seat Cushion! You see, the mindset I had at the time was to feel better I knew I needed Physical therapy(which was going somewhat well), I needed to stretch/yoga/exercise outside of that at home on my own time, my nutrition was getting better once again, and my mentality which was always strong, got even stronger.
The Key is to have a strong mentality, and a stronger mentality will set you free, and help you get to yout healing goals much MUCH faster, I promise you. This mixed with a Proper seat cushion changed the way I:
Exercised more
Stretched for longer periods of times
Did more yoga comfortably
Had a stronger posture
I wanted to eat more
Be more productive
and so much more
After this discovery and achievement I was feeling great, but it didn't end there. I still had a terrible muscle imbalance, and my hips and posture was still suffering because of it. But I didn't know quite why, until it hit me…
I was using a deflated beaten up cotton material cushion. There was no point in sitting down because it was the equivalent of just standing. So I did my research right, and I found out about a memory foam seat cushion, and you know the rest was history.
I didn't massage, I didn't use a foam roller, I couldn't use a knot release ball, or anything other conventional methods at the time because:
My back hurt
I needed to fix my posture.
It was the seat cushion, in all honesty that made me see things differently…who would have thought??
It changed the way I played soccer again, treated my body, let the painkillers go and transitioned into more herbal treatments, I had a new lease on life with what I wanted to do from that point forward which was continue an education in helping people with back pain….Hence what's made me an expert in my field.
The challenge for me was always my hips which hurt my back when I didn't have a specific spinal pain. So its your hips that cause most of the problem. While you are sitting, your hips can still be weak if you don't exercise them out.
What Are Seat Cushions? Why You Really Shouldn't Overlook Them
Seat Cushions for lower back pain, knee pain, sciatica, or whatever reason are all great ways to answer "what" they are good for, but let's dig even deeper to the core of what they are and why you need them.
Do you want to increase your appearance of feeling smarter along with:
Getting your Power Back
Your Strength
Increase your wealth
Your Happiness
Your Physical Appearance
and your Style?
Then listen up, because I'm only going to say this once…
The RIGHT Seat cushions will offer you all of that without any type of overhead cost.
For the majority of us, sitting is. was, will always be a way of leisure, a definitive way to relax and disjoint all of our stress and problems, but for other it can be a real "sit tight", painful and uncomfortable experience.
Many people will not think about how much sitting plays a HUGE role in their day-to-day activities, but between you and me:
sitting at your desk
sitting in your car
sitting out at a restaurant table
… Being able to sit is expected, and standing is not always the option.
A seat cushion is exactly what you're thinking, and in my own words this is how I'd state it: A soft, furry bag of a specific material, stuffed with fibers, memory-foam, feathers, or some form of other material.
Now, the immediate solution to the problem would be to get another chair, and go for a more ergonomic friendlier version. But that problem will still persist if you have to:
drive down the road, and you need the extra cushioned support to get you through your drive.
travel, and the particular seats you have to sit on are not comfortable and for your size.
…Or a larger problem is that you wouldn't want to change your chair is because its too costly!
Check out how to reduce your back pain with a seat cushion in this video:
I couldn't tell you the last time I've roamed the aisles of my local supermarkets like Walmart, or target, and have come close to ending up looking at cushions, let alone shop for one. While they are not rare to find, it's the fact that we are less aware of careful seating techniques.
Not to come off weary, but wouldn't you rather have added comfort support then to have enough or none at all? You can't go wrong with extra booty support 🙂 excuse me. But seat cushions are more then the double cheeks number one fan…it helps your lower back(lumbar spine)
That's right! The right seat cushion will not only smooth out your buttocks, it will lighten and relax your spine and tailbone; allowing it to straighten out.
If you have bad posture, I have some great news for you. I CAN assure you are in great hands. This might sound familiar when you're sitting:
You go to take your seat, and almost immediately you're back is saying its hello to the back rest. After a short time, that will cause slouching, and shifting your pelvis from left to right or right to left. But guess who else gets it? Your hamstrings. Your muscles and ligaments become weaker because of it.
Versatility That Is AMAZING, Meet All Your Needs
You don't know how much I get this all the time: "When can I use a seat cushion"? I basically hit back with my favorite statement: "ANYWHERE".
I'm used to getting a blank face turn into a cringed skeptical one. But quite in fact that's the honest truth. If you wanted to use one around your home, take it in the car, sit on one at work, go traveling, you can effectively accomplish all these tasks.
One of the major reasons for lower back pain complaints is due to poor posture. There are many downfalls to hurting you lower back and some of those are:
Less exercise
Bad eating
Poor stretching
Excess weight
If you're on this end of the topping scale, doing the same thing by sitting on a hard, or sinking surface will just make the pain worse.
But if you happen to be sitting for hours on end and one jerk to the sky contributes to your pain, then it could be time for extra padding.
One great thing I've come across from using seat cushion are that they come in many forms- Shapes,sizes, and material.
You will see everything from a flat square, to a "U" shape, and from memory foam to gel infused memory foam.
Foam Seat Cushions:
A flatter designed shaped seat cushion will be composed of just basic foam. It's an affordable way for beginners to try to test these devices out for themselves, as they are the least expensive option.
They will come ion different options such as either a single layer foam or a dual-layered and well contoured foam cushion which will offer you more buttock support.
This type of cushion will relive your aches and pains, while allowing you to sit for long period. They make a great travel companion, and are a great addition for those who want more then one cushion to leave at work, home, or in their car.
Cons:
Most need extra layered support. Let's say you're sitting on a flat surface with no padding. Then you place your foam seat cushion on top and sit down; you'll still feel uncomfortable . What I would suggest if it is not a dual layered cushion, is to place it over a cushioned area like a couch, office chair, or a car seat.
Their flat design doesn't support your coccyx. If your tailbone is in pain, these foam cushions will not do a good job at supporting and taking pressure off it.
Don't relive severe lower back pain like chronic and sciatica pain, very well.
Memory Foam Seat Cushions:
Now we're getting somewhere! This type is the most popular material used for seat cushion today, and moving forward into the future. Thanks to the advancement in properties of memory foam, you can find comfort in any that you choose.
These cushions have a polyurethane foam that has the ability to work with your body;s core temperature, and it doesn't matter if you are in the cold, or heat, the cushion will contain its warm heat. Although they are a little more on the expensive end, they are going to last you longer, due to its durability material.
The thickness is nearly perfect! Memory foam has a thickness that is firm, and when you sit on it, you'll immediately feel your natural shape contour to it. What I like the most is that they provide you with exceptional coccyx(tailbone) support and for your lumbar spine without it feeling heavy. You'll be blown away at how lightweight these cushions are.
I have one right now, and I'll be sharing that later on.
Gel Seat Cushions:
First came the Memory Foam, and then arrived the gel. Another highly popular material for orthopedic seat cushions is the gel infused approach. These cushions are made from a gel pack, usually with a pillowcase as an outside cover.
The gel will allow you to sit comfortably on tip of it, and it works extremely well on your body's pressure points to provide you ultimate relief. What they do so well is allow you to distribute your weight evenly, so they are ideal for people with circulation issues and will provide you with extra comfort from sitting too long. These are usually more on the expensive end, and a large part of it is because how fragile they are, and the gel offers a heavier weight, and are prone to break.
Coccyx Seat Cushions:
A coccyx seat cushion is the most common type of seat cushion you will come across, with a focus on relieving all the pressure built up in your tailbone. These come in a U Shaped form, and it allows your tailbone to be free from the seat. What they do so well is remove pressure from your spine, allowing your pelvis to be slightly pushed forward so your entire spine gets a chance to relax.
Lumbar Seat Cushions:
Some seat cushions out there will come with both a coccyx seat cushion and one for your lumbar spine, which provides you with additional support to your back from all angles. You'll add cushion to your back, while allowing your bum to get pressure relief at the same time!
Are they for you?
Whether you are the kind of person who doesn't enjoy sitting for a long time, or someone who can't wait to take their seat, you can still benefit from using an orthopedic seat cushion.
From my own experience, I've learned that many people use them for various needs. You have people from wheelchair users, frequent travelers, the office workers, seniors, post surgery patients, pregnant woman, gamers, and drivers.
A bottom Lumbar seat cushion is great for you when your glute muscles weaken and you can no longer stand up or even sit down at the very least…
What happens is that your gluteus minimus and the muscles shrink so that they curve inward and cause your hip muscles to push out and get even more out of alignment.
How Can you get the most out of it?
It's best to use a seat cushion with proper back support. Which means, you should use them with a chair or seat that has proper back cushioning to keep your back as straight as possible. If you're backrest on your chair is in decent shape, combining it with a lumbar back support will give you the best reward.
I have found that applying heat and ice under my seat cushion while using it will alleviate aches and pains more then just the cushion alone.
How to Clean:
Most seat cushions come with a cover, so the best way to clean is to place them in the washing machine. Don't place your cushion in their, as this will destroy it.
The settings might vary from cushion to cushion but with mine, I was on a cold gently cycle. I avoid tumble drying these yours as they can either shrink or tear. Once they complete their wash, place them in a dry place, not in front of sunlight.
Which One Is Best For You? The Mouthwatering Punch
I like each and every style, and I've trialed and tested them all. If I had weaker pain, something as simple as the foam cushion would work, but for more constant aches and pains, It's a great idea to upgrade to memory foam. Memory foam is the right way to get rid of your:
lower back pain
sciatica
coccyx pain
leg pain
thigh pain
pelvic pain
A Gel memory foam will do all a memory foam does with the addition of promoting better blood circulation. So if you have blood thinning, and trouble with getting proper circulation, go with this one.
Let me share with you how I use a seat cushion right now.
I'm not sure if you've read my article on how you go about treating your lower back at home, but I talk about how to reduce the stress on your spine, and in a turn around not only alleviate your pain, but fix your and restore your muscle balance. You can learn more by clicking here.
It's time for me to reach for my seat cushion, now that I'm on the matter. Here it is, as I speak: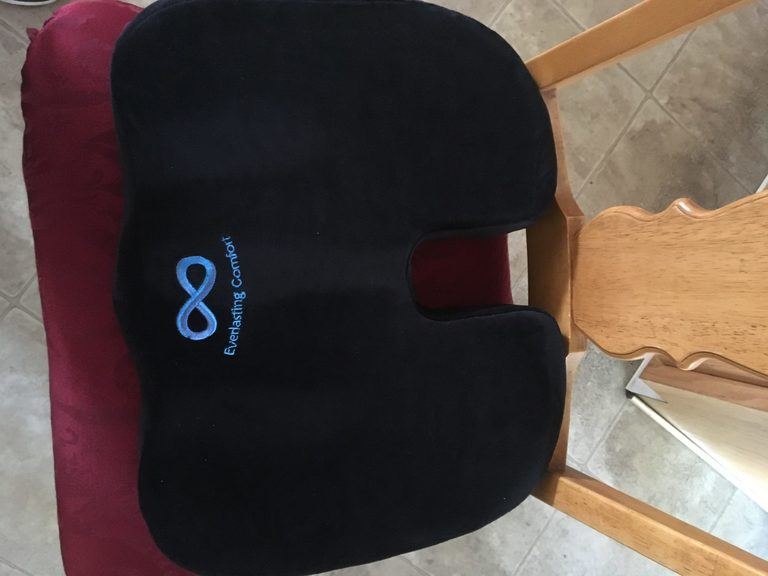 This one above is called the Everlasting comfort Seat Cushion which you will hear about in just a couple minutes.
Watching T V and working has taken on a whole new meaning! Just yesterday, I sat for what was hours on end without fidgeting, or standing in pain. There was not one feint of muscle spasms, or a sign of my hunch back of Notre Dame look.
What my seat cushion was able to do for me that my couch couldn't, was let me sit straight, and in a 90 degree angle from top to bottom. To have good posture you need:
your pelvis aligned
your muscles strong
your lumbar spine straight
your head straight and in line with your shoulders
Put a check mark next to all those. One of the most satisfying elements is having a plan for driving and traveling in your vehicle, or a vehicle piloted by someone else. Car sets don't have the greatest padding or material for your bum, and your spine. You can push your seat in closer, but that will only work for a short time.
With my own seat cushion, I get the luxury of relieving my lower back and at the same time traveling like a healthier man. You can check out how I make great use of my seat cushion at home by clicking here.
The Best From The Unbeatable Rest, A Real Eye Opener
To Help everyone with sitting disabilities and those with a weak lower back, I personally went over to 4 different stores, Target, bed bath and beyond, Kohls, and Relax The Back to see and ask which ones were best suited for acute and chronic lower back pain. Rounding them up all up, I checked and compared their prices with Amazon, and found them to be significantly lower at their site.
These were the results:
#1. ComfiLife Gel Enhanced Seat Cushion – Non-Slip Orthopedic Memory Foam Coccyx Cushion for Tailbone Pain – Office Chair Car Seat Cushion – Back Pain & Sciatica Relief

If you're in the market for the best gel memory foam cushion on the market that provide both lower back pain and sciatica relief, then look no further then the ComfiLife Gel Enhanced Seat Cushion.
The reason I say this is that the gel is made with premium quality durable memory foam with superior comfort for long hours of sitting. Plus, it's a U shaped cushion which you already know it will alleviate lower back, sciatica, and coccyx pressure.
One of my favorite features of this seat cushion is its gel-enhanced coccyx seat cushion. You will not have to worry about relieving your back pain and sciatica naturally because of this. It's an everyday way to sit and get comfort without worrying about your muscles and spine getting out of alignment.
If that's not enough, I know you'll also like that it comes with:
Large ergonomic contour design prevents your spine from getting out of alignment and getting a bad posture. You will spend less time fixing your posture, and more time healing and gradually increasing your posture. You'll notice the differences when you go to stand up how straight your back is.
Once you go to sit down, your glutes will feel immediate pressure relief. This ensures you will get relief in all other areas such as your herniated disc, pregnancy related sciatica, pifimoris syndrome and coccyx tailbone relief.
The Seat cushion is reliable and very easy to us. It's another feature that makes sure the cushion will not flatten while using over and over again. In any climate conditions, the temperature changes with it. Your cushion will feel softer in warm and former in colder temperatures.
You can turn any chair into a premium seat! It's so versatile that you can use it from an office chair, car seat, trucks, kitchen sets, classrooms, to anything you can literally think of.
This product comes with 100% high density memory foam topped with a cooling gel layer that is durable and provides you with long-lasting comfort that is superior to its competitors. It's just another reason why its so convenient and a must have.
As you can see here, there is much to love. In fact, there are thousands of reviews over at Amazon of the seat cushion being praised overwhelmingly highly. If you'd like to see what other happy customers are saying, click below:

#2.

Kieba Coccyx Seat Cushion, Cool Gel Memory Foam Large Orthopedic Tailbone Pillow for Sciatica, Back, and Tailbone Pain (Black)

A middle of the road affordable seat cushion that combines the highest quality memory foam and a firm density feature. If you want a seat cushion that will provide you maximum relief every time you sit for a long period, this is the cushion you must consider. The reason I say this is that sometimes when we sit for hours on end, not only will our butt hurt, but so will our backs. With this cushion you will not have to worry about any of that.
One of my favorite features of this seat cushion is its ultra premium memory foam that is layered with soothing gel technology. You will not have to worry about getting both superior comfort and support because of this.
If that's not enough, I think you will also like that it comes with:
Very specifically designed gel technology prevents the temperature from getting to warm or too cold. You will get stabilized temperature by reducing its trapped body heat in the cushion, allowing you to relieve your pressure points.
Once you sit down, you'll get a sense for its firm density and extra padding for your coccyx. This ensures you spend less time worry about getting pressure relief in your spine, good posture, and healthy weight distribution.
The breathable velour cover and non-slip bottom is very reliable and easy to use. It's another feature that makes sure you can easily clean, and keep your cushion attached to any surface without movement.
This product is recommended for anyone with lower back pain, sciatica, and tailbone pain. It's just another reason that makes it so powerful, and a must have!
As you can see here, there is way too much to love. So Much so, there are thousands of people giving it overwhelmingly positive reviews on Amazon. If you'd like to see what other customers are saying, click below:

#3.
Aylio Coccyx Seat Cushion | Back Support, Tailbone and Sciatica Pain Relief, Washable Cover

If you're not on a budget constraint, and you would be happy with a combination of both superior comfort and supreme targeted pressure relief, then look no further then the Aylio Coccyx Seat Cushion. The reason I say this is because the product has an ultra soft velvet cover with a high quality foam that will alleviate your lower back wonderfully. Plus, it looks and feels amazing too!
One of my favorite features of this seat cushion is its lightweight, weight 1 pound!. You won't have to worry about carrying from place to place while struggling. Some seat cushions especially the gel versions can weigh a little more, but with the lightweight version, it's easy to hold up next to your chest without straining or tiring out your shoulders- which happens to me a lot by the way.
If that's not enough, I know you'll also like that it comes with:
Very Hygienic velvet cover prevents you from being allergic to it. You won't have to worry about sneezing up a storm, and getting your cushion soiled or dirty from daily use.
Once you sit on top of it, you'll feel how soft and well it contours to your spine, and in relation to your hips, thighs, and tailbone. This ensures your buttocks get proper cradling, while the ergonomic wedge looking structure will distribute your weight evenly to promote healthy spine alignment
The micro grips at the base are very reliable and easy to adjust to. It's another feature that makes sure you don't slide left, right or front to back, and you can spend more time sitting straight and enjoying your leisure or activities with the least amount of effort possible.
This product has so much versatility, it's truly amazing. The addition of 1 pound makes it easy to travel with, carry around from one sitting experience to the next, all while alleviating your stress both physically and mentally.
As you can see, it would be a loss to shy away from this seat cushion. In fact, there are 10 and thousands of reviews on it over at Amazon of people giving it overwhelmingly positive points. If you'd like to see what other customers are saying, click below:

#4. Purple Simply Seat Cushion – Seat Cushion for The Car Or Office Chair – Can Help in Relieving Back Pain & Sciatica Pain

The Purple Seat Cushion is both Marveling to Look at as it is Comfortable and Luxurious to sit on. This Seat Cushion is Made up of Hyper-Elastic Polymer with no Skid-bottom
One of my favorite features of the Purple Seat Cushion is its free air flow technology and temperature neutraity. You Will not have to worry about sitting on a heated and wet surface the longer you sit, and you can avoid swamp butt as the day goes on.
If that's not enough, I know you'll also like that it comes with:
Very Versatile use for Sciatica, Back Pain, Tailbone, or just from a long day of pain prevents you from having to break your posture again, or worry about hunching over the next time you go to sit down.
Once you sit on the cushion, you'll immediately feel the specialized polymer design that is laid out in and evenly distributed for your back and spine without putting pressure on your hips or hindquarters.
The cushion is very reliable and portable. This is just another feature that makes sure you can enjoy your next concert, soccer game, or for whenever you have to travel place to place. Plus, it has a handle so you can carry it with ease.
This product also comes with machine wash capabilites, and it gets better…You can wash the cover and the seat cushion. Just wash the cover on in cold water with other like colors then tumble dry on a low heat setting. For the Purple cushion, wash with warm water and mild detergent then let it air dry. This is another reason why this product is so convenient, and a must have.
As you can see, there is so much to Love about the Purple Seat Cushion. In fact, there are hundreds of people at Amazon giving it overwhelmingly positive reviews. If you'd like to see what other happy customers are raving about, then click below:

#5.

ComfiLife Premium Comfort Seat Cushion – Non-Slip Orthopedic 100% Memory Foam Coccyx Cushion for Tailbone Pain – Cushion for Office Chair Car Seat – Back Pain & Sciatica Relief

If you're in the market for a little pricey yet very affordable seat cushion with premium high density foam and gully guaranteed customer service, then this is the seat cushion you must consider. ComfiLife has over the years been producing some of the most superior cushioning support and appeal for quite sometime now. They are very trusted and a brand favorite. Plus, it will last you for many years to come!
One of my favorite features of this seat cushion is its all in one features. You won't have to worry about slipping while sitting, be able to carry it around with you(has a built in handle) and wash it without any trouble.
If that's not enough, I know you'll also like that it comes with:
Very High 100% premium quality memory foam, prevents your buttocks from sinking in, and from heating up while sitting down. When you sit down, you'll be able to relax for hours without your bum, getting warm and that uncomfortable feeling.
Once you sit in, you'll immediately feel the effects of pressure relief in your lower back, sciatica relief and in your tailbone. This ensures you can use it for any purpose imaginable and get the best results as you would have expected.
The cover is easy to strip off, and is very reliable. It's another feature that makes sure you can easily machine wash the velour cover and dry it without a problem.
This product also has so much versatility. It's just another reason why you can use it in your car, to a plane, work, dining table, and everywhere you can think of!
As you can see, there is much to love about this seat cushion. So much so, there are many people at Amazon giving it highly rated and overwhelmingly positive reviews. If you'd like to see what other customers are saying, click below:

#6.
Everlasting Comfort 100% Pure Memory Foam Luxury Seat Cushion, Orthopedic Design to Relieve Back, Sciatica, Coccyx and Tailbone Pain – Perfect for Your Office Desk Chair

It's a seat cushion in that low $30 range which is very reasonable because it is highly overseen by orthopedic doctors, as they recommend it. And it comes with a lifetime replacement guarantee! When they say they provide the best customer service, they really mean it. I've worked with other companies, and truly this one exceeds customer service expectations. It's a large reason why I have this one, and I'm actually sitting on it right now as I speak.
One of my favorite features of this seat cushion is not even a feature, it has to do with their relentless R&D testing. You won't have to worry about it competing with its other competitors, as they say they will not release anything that is higher or closely related to their competitors!
If that's not enough to get you thinking, I know you'll also like that it comes with:
Unique U-shape prevents your back from aching, and causing your lower back further pain. You can rest assured that orthopedist and doctors approve of it to reduce your acute and chronic pain, by targeting the areas surrounding your sciatic nerve.
Once you sit in it, you'll notice almost immediately how luxurious it feels. This ensures you get the best seating experience while doing the activities you need to get done.
The memory foam is very reliable and easy to work with. It;s another feature that makes sure you get the optimal density if cushioning and support for achieving the transfer of your pressure. Appropriate for people between 100-300 pounds.
This product fits most standard sets, it has the dimensions of 17 x 13.2 x 2.4 inches. Another reason why its so convenient and a must have!
As you can see, there is a lot to love here. In fact, there are thousands upon thousands of people giving incredibly positive reviews at Amazon. If you'd like to see what other happy customers are saying, click below:

#7. Truck Driver Seat Cushion For Lower Back Pain Relief Sciatica Coccyx Air Comfort Pad Office / Auto / Wheelchair / Trucker / Tractor / Construction 18″x16″
Are you a Trucker who needs to take the edge off your bumm from sitting for hours at a time? If you're in the market for a product that is a little more on the expensive side, but that comes with Superior and patented Air Technology for maximum hours of relief, this is the best truck seat cushion for back pain you need to consider. The reason I say this is that you can sit without pain, numbness, and fatigue.
One of my favorite features of this seat cushion is its convenient 18 inch X 16 inch Size that fits every seat! You won't have to worry about only using it for one type of seat because of this.
If that's not enough, I know you'll also like that it comes with:
Double Sided 2 way stretch fabric prevents you from sliding when you're driving your truck a tractor, you're in your office, on your wheelchair, or wherever it might be.
Once you sit down, you'll begin to feel your back depressurize and the interconnected air cells will begin to merge up and let the air slowly go out, allowing your body to evenly distribute your pressure
The cushion is very reliable and easy to use. It'll cushion your whole body while lifting you into a comfortable sitting position, easing back discomfort.
This product is also absorbs shock and vibration from engine, road and terrain very well. And unlike foam, you won't have to worry about the cushion hardening

As you're able to see, there are so many great benefits to having this seat cushion. So much so that there are very proud consumers at Amazon who can't put it into words how happy they are to have changed their lives with it. If you'd like to see what other people are saying, click below:

#8. Flash Furniture Grandstand Comfort Seats by Flash with Ultra-Padded Seat in Maroon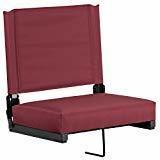 This is an awesome Seat Cushion for people who will be sitting somewhere that has benches, bleachers, and even for ground sitting. If this sounds like you, then this seat cushion has to be yours to lose. Plus, its super light weight!
One of my favorite features of this seat cushion is its padded back and 3 inch foam seat. You won't have to worry about getting comfort while you're moving around and watching your favorite game. You'll literally not want the game to end.
If that's not enough, I know you'll also like that it comes with:
Built in carrying handle and sturdy grip prevents you from falling over, and hurting yourself because of this.
Once you sit down, you'll begin to see a built-in bleacher hook that provides you with added stability when sitting on wooden and metal bleachers and easily pivots out of the way to sit on the ground for you.
The seat is very reliable ans supportable. This seat can support up to 500lbs without breaking a sweat! This is just another feature that makes sure you can stay seated without worrying about breaking such a lightweight seat.
This product also comes with many different color options. Match it up with your favorite color and stand out from the crowd on game days.
There is just so much to love about this seat that even I am considering purchasing it for the summer coming up. There are thousands of people on Amazon giving this product highly rated comments. If you'd like to see what other happy customers are saying, click below:

Benefits Of Using The Best Seat Cushions
Now that we've gone over the 5 best seat cushions ever, lets cover the common benefits of using these cushions in your every day life. There are many places that a seat cushion can help out in, and here they are:
Sciatica. The term "Sciatica" refers to a numbness or tingling sensation in you leg. You will then get symptoms of numbness in your buttocks, this is commonly your lower back to blame for. Sitting forward with a pinched nerve can really do serious damage to your body and your cognitive behavior.
No thanks to your bad posture, it will cause continuous pain to radiate down to one side of your leg and back up sending pain signals to your brain. If you feel like your chair, sofa, recliner, driving chair, is not giving you the support you need, and occupational therapist will suggest the use of a seat cushion
Hip Pain. Pain in the hips is common with a bad back, and awkward sitting posture. Most of the time your hips will swing forward in an anterior pelvic tilt position as its known, and this will cause your back to hunch forward while pushing your legs far out. This causes more of a muscle imbalanced and a possible pinched nerve in your sacroiliac joint(the pelvis)
Pregnancy. It's better to be safe than sorry for a pregnant women. Even if they do not have sciatica or lower back pain, choosing a comfortable and well supported tough cushion can help protect the child in the womb.
Meditation. That's right, you can use a "U" shaped cushion for meditation and it will be able to support everything from your tailbone up. It can get uncomfortable to sit on the floor or on a yoga mat, but a seat cushion will let you relax for hours!
The one tip I'd give you about seat cushions for back pain is that having more than one is really use-full because you can take one on the go, and have the other sitting at home or elsewhere…
and you can already have it setup in a location so you don't have to mess around with organizing, in the cause of hurting your back.
Re-cap and Final Thoughts
Sitting with a bad back is like whipping out a pack of cigarettes before you've even smoked just one…It can turn out bad.
But sitting is instrumental and way more fundamental for your back when you do it right.
I think we all want our bottoms to feel like royalty, at least I sure do. It's important that you take preventive measure to decrease and completely remove your back pain a more natural way, and a seat cushion is the top preferred method to go. Why?
Sitting properly is the difference between taking another pill, or not being able to perform the next exercise, or even getting slightly too comfortable to the point where your habits will take too much work to change.
With proper sitting, you can straighten your spine, keep your muscles from legs to your upper body in check and balanced, and you'll seriously save yourself time in using conservative treatment after the next one. Take it from me…
I love seat cushions, and they are my go to fix. Think about it, you spend nearly half your life sitting(just like you would sleeping), so giving not only your buttocks but whole back relief and comfort is sensational!
I can't think of a time anymore where I had to struggle traveling, working, or sitting in front of my desktop monitor at home, it's been a pleasant experience. You can check out my how to travel with your back pain article right here.
As this article stated. These will be the seat cushion with back pain, and although there are many ways to get pressure relief and some comfort with seat cushions, it's always better to go for quality over quantity.
The reason for this is that many of the seat cushions with a U shaped design and are made of memory foam are and will always be the best.
And although there are many others out there not covered here, I did show you what will be the best whether you have acute or severe chronic back pain. So when are you going tom take your seating game to the next level when you're busy at home, work or you just want to travel for fun?
If you have any questions,comments, or want to offer me your feedback, please leave me a comment down below so we can discuss. I'll get back to you right away!