Topical are medications applied to a specific part of your body to control, and remove inflammation and pain. They are classified into 4 categories:
Creams
Gels
Foams
Lotions
Each one has their own specialties and purposes. With the help of your fingers, you can spray, click, or scoop a favorable amount, and get it right onto the surface of your skin. Based on the specifics of your condition, the strength of the topical, the form that it comes in, you should fiddle around a little to find the one that is right for you.
Some people find that the best topical for them is the one that is for multipurpose. Some creams and gels will target just about every part of the body, and this can be the one for you. Some apply more strength from a particular ingredient, while others are less effective for treating your condition(s).
The Placement of Topical
First, I advise that you take a second to read the directions on the container. This will tell you everything you need to know. Some people assume that the stronger the smell(methanol), the worse the smell, and the longer it takes for it to evaporate away. This is not the case. It is best you get a feel for how the chemicals work together. One chemical has the potential to be the most potent and smelling of the rest, but it's because of the other ingredients that allow the smell to cool down in a matter of minutes.
Topical have been proven to be an effective agent for decreasing and eliminating lower back pain. The evolution has seen growth in the number if applications they can be used for, and their "specialty"…per say. While a topical can help reduce your inflammation and pain, they can also prevent further injury, and swelling.
Your pain can range from low to excruciating, and whichever it may be, a product of your choice can help reduce it. Over the years, I've been able to understand the motives for how each topical works. Many will work to mask the pain, sort of like a painkiller without the side effects, while quite a few in the market actually get to the root of the cause.
Before applying any topical it is advised you read about how to apply it, and you take in the aroma. Now you are ready to apply a couple fingertips. You should apply a small scoop into the tub, apply a light squeeze or spray onto your skin. Massage the area with a little pressure. Do so until the whole cream or spray is not showing. For maximum results it's important that you press onto your tissue so your muscles and joints can feel the effects.
Topical Buying Guide
There a wide variety of Topical. You'll need to know and understand the similarities and differences between each one of them. Below, I have analyzed some of the best topicals for your lower back.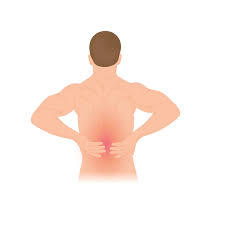 Pressure Relief:
We all get a bit of stiffness, joint pain, inflammation and pain that needs help managing. Getting relief is the ultimate goal, but effectiveness is the up most important feature. The ideal topical is one that does a little of everything, and is able to penetrate through your tough outer tissue. There are factors that go hand in hand, but that's not always the case. For instance, a topical may be able to relieve pain for hours but it doesn't remove your pain, and vise versa. Perfect topicals shouldn't lack any. The pressure relief is mainly associated with the type of ingredients used by it's manufacture. While some are creamy, liquids, gels, they all have a different value to offer. When searching, you should settle for a topical that is going to bring you relief for at least an hour, free of harmful ingredients, and your not skin sensitive.
Size and Shape
Topical have different sizes and shapes. You need to pin point that whichever you choose, it brings you the greatest relief. Some topicals come in smaller ounces, and will cost a little more, but they happen to be the most natural and effective from my own experiences. As long as you're practicing safe procedures, you'll be able to get your life rolling day to day. You don't need all your pain gone in a matter of days, but with constant use you'll find yourself using less and less. It's only a matter of time before you get accustomed to the cool feeling. If your pain covers a large area, be sure to spread your fingers or spray over the entirety of it.
Scent Control:
Topical that don't let the smell linger after 10 minutes are ideal. There will be topicals with the strong ingredient of the natural relief called menthol. Menthol is only a part of it, the rest that you smell is part of the compounds it's molded with. The more natural the ingredient, usually the stronger the smell will be. Most topicals are extracted from peppermint, and other mint family groups. Menthol can range from 2%-4%. Once you apply a small amount of topical onto your skin, the smell with be around for a short amount of time, before it completely goes away.
Ease Of Use:
You should easily apply a topical onto your skin. For this purpose, most topicals have an ease to use application. They have evolved from tubs, squeezers, to sprays. The trend gets easier to use
Durability:
This should be one of the primary things to be considered when purchasing your very own topical. Go for one that will not get messy and cause your product to tear apart the outside.
Top Best-Selling Topical
These are the best topicals on the market today, and these are how they compare with each other.
Maximum strength Blue Emu is an effective topical. It is suitable for anyone with joint discomfort, muscle soreness, inflammation, pain, aches, and stiffness. People who have used it are happy with it's pain relieving capabilities but have their reservations with it because it causes side effects, such as: itchiness, redness, skin irritation, allergic reactions. The size of this tub is 12 oz, and provides great use time after time.
It's always best to use at least 3 times in a day for maximum relief.
The overall perception of Blue Emu is positive. People are happy with it's practicality and efficiency. A review stated that it offers the best soothing and moisturizing feel to their lower back despite it's high cost. The reviewer went on to say that since he started using the emu oil, that it's relieved him of his hip pain that radiated up to his lower back. Another reviewer went on to comment that after a couple of surgeries and arthritis pain, she found her soreness and tightness to go away. With continuous use, 3-4 times a day she noticed her muscles aches significantly reduce.
Noteworthy, is that not all people can be satisfied with Blue Emu. Some say that it brings no relief what's so ever, and when it does it only last a short amount of time. Some others state that it's just acts as a moisturizing cream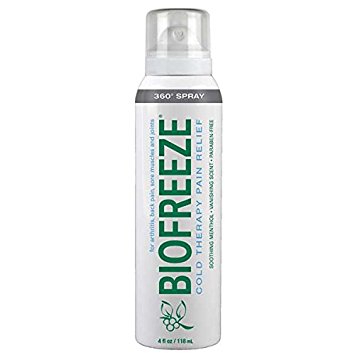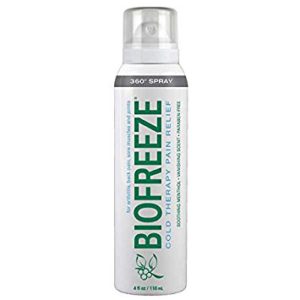 I believe that the Biofreeze 360 Spray will offer a perfect balance of usability, price, efficiency, and ease of application. It is a 4 oz can, and delivers a whopping 10.5% menthol. This product is popular for it's self use without the use of prescription drugs, and when compared to other topicals, I can this tell you it offers a smoother consistency. When I touch my back after applying a small amount of spray, I can tell it reaches the surface of my tissue nicely without burning, and that it evaporates right away. It does not get messy at all.
The nozzle is easy to press. Therefore, when you go to press it, it doesn't come out in a huge stream, rather it sprays into a mist. The fact that you can turn the bottle upside down and spray it for easier use makes it better to use when you are by yourself. Another plus is that it can come in packs of 2 or 1, implying that if you need an affordable, yet strong pain relieving topical, this is for you.
You can stick one in your gym bag, and place another at home for later use. Unlike the roll on and tube, the 360 spray will not burn your skin, and will not get messy. The problem user have mostly observed is it's inability to always spray correctly. Biofreeze has put out a newer version of the spray where it shoots out into a stream rather than a midst. I have the one that offers a mist, and I haven't bought the updated version to see that. The other disadvantage is that if you have spray on your hands and you go on to touch your eyes, it can burn.
I got mixed reactions when I interviewed people who have been using this topical for their lower back pain for a while now. Some are extremely pleased and obsessed, while some others feel the spray seems to stop working at times. The best reviews I got on average was that it had a great feel on the lower back, and it goes right to work like it says it does.
The not so impressed users said that the nozzle can be improved, and that if you go on to use the roll on or tube, that it can get messy all over your hands, and causes skin irritation. This leads to burns. However, most of the complaint users haven't tried it for long enough. Looking from this perspective, I can say that the fact they are willing to overlook the amount of times using Biofreeze, that it is good enough in every other aspect.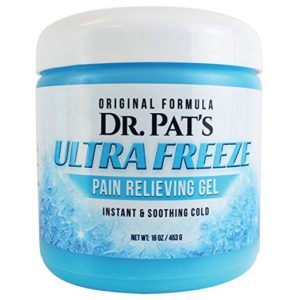 The name separates itself from it's competitors…it's ultra freeze. The cool effects of this gel topical will give your back a soothe feel with a cooling sensation. It's suitable for anyone with inflammatory, back pain, sciatica, arthritis, tendinitis, neck pain, plantar fasciitis, and sore joints. People who are using the ultra freeze are ecstatic because of it's long-lasting pain relieving contributions but have their reservations about it because it has a semi-strong menthol smell. But that goes away in a matter of minutes. The size of the tub is in an extra large 16 oz, and it will give you over months of use.
For maximum pain relief it is best to use it pre and post workout. It is also ready to use on regular occasion, for mornings, afternoons, and evenings.
There is no reason to feel in any pain for the duration of your workout and your cool down.
We got the opinions of users of the Ultra Freeze, and while some were happy, others were not. Based on the general perception, we were able to filter out that the Ultram Freeze offered long-lasting relief, and it is more effective then most topicals that are high priced. It specializes in chronic back pain, and it allows you to lose the medications. The most noted advantage is that if you like to walk, hike, the ultra freeze will be your go to gel. Many people with low and especially chronic lower back pain have admitted to using this gel to allow them to walk in comfort again, and helped improve their low-impact exercise. One thing I found out for myself was that this gel puts topicals like Bengay, Icy Hot, and Biofreeze to shame, because it's much more cooler(not enough to be too cold), and acts better on your sore muscles. The most noted disadvantage is that it can get messy. When I tested this, I didn't have this issue because I made cleaning up a priority, so I guess you may have to find out for yourself.
The Ultra Freeze is not so popular among sciatica patients only because it doesn't last long. When you flair up, it does a decent job, but that there are better topicals for that out in the market.
If you need a topical capable of lasting a very long time while offering every day use pain relief for exercise and day to day use, this is the topical for you. The user can apply it at any time they have inflammation, or are having chronic lower back pain. It is a durable container, and for people who need a feel similar to ice, I recommend going with Dr Pats Ultra Freeze. The tub is tested and trusted.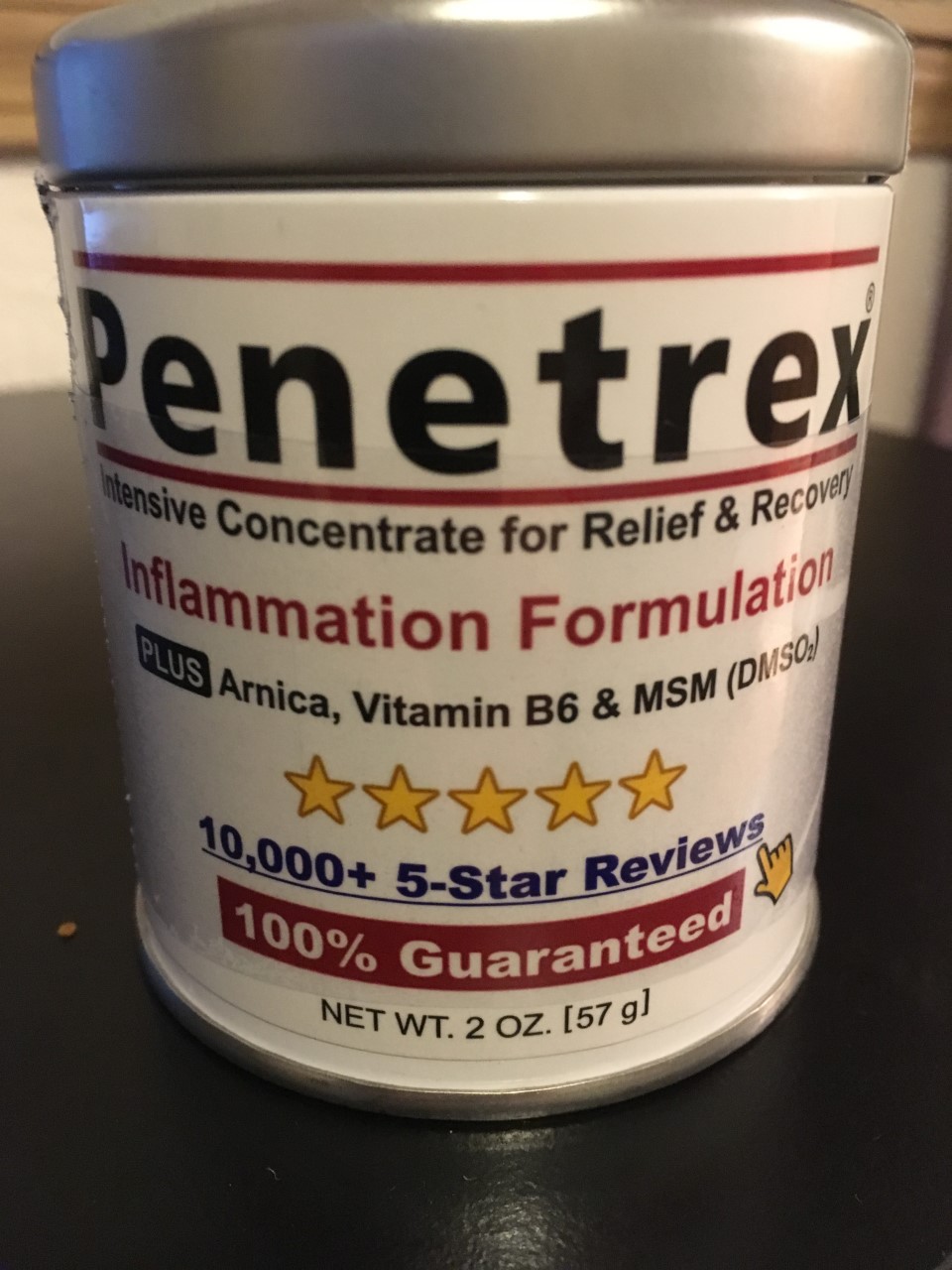 This brings me to the topical I wanted to save the best for last, Penetrex. I love Penetrex, as much as all the other topicals but I give it a .9 advantage over biofreeze, a .3 over Dr Pats Ultra Freeze, and a .7 over Emu. I honestly believe it is one of the best topicals around today. If for nothing, the fact that this topical doesn't have issues with minimizing all your chronic lower back pain, and lessens the amount of times you do eventually go to use it, it's the perfect cream. This new inflammation/pain formulation is All natural, and it will penetrate through the toughest of your tissues, getting to the root of the cause. This implies that the cream does not mask your pain like 99.99% of other topicals will do. When you go to use it day to day for 3 times a day, for at least a week, you'll notice that you can go less and less without re-use. This is a major advantage, because now you can enjoy all the things you need in life. Whether that be family, sports, work, you wouldn't have an excuse.
I am also impressed with it's abilities to let me sleep. I could be taking a nap in the middle of the day, or just before bed, and all I grab is Penetrex. With a small application, It will let me get through a cat nap, and a fulfilled restful night. When I'm at work, and my back, or hips start to flare up, I can use it right away without having a lingering smell to bother my co-workers. For long term chronic lower back pain, this will be the cream for you. It easily fits into your compartments, a work, or gym bag.
The major issue associated with this topical cream is the size of the container. Although it comes in a 2 oz container, it doesn't fail to deliver exactly word for word what it says it does.
I asked older and newer users about what they felt about this topical cream. I ensure you I got honest answers/feedback because I even asked for myself. These users both agreed they loved the cream because of all the other topicals they previously used. They stated that it took the cream a little time to relieve almost all their pain, but after repetitive use, they loved every part of it. The cream was able to solve their problem which almost every other topical had, and that was the problem of long-lasting, long term effective results. This helps to do daily activities nearly pain free.
The fact that you Penetrex comes in a variety of different packs, can make it not only affordable, but more flexible with it's uses. You can get a single 4 oz jars, a 3 pack 4 oz jars, a 6 pack 2 oz jars, a large 4 oz with a 2 oz, or just the single.
However, we had some not so good reviews. Some users were not happy with the size of the container, and they thought it was a little more expensive than most topicals. They believed that other topicals offered the same results, but they hadn't been educated enough in the effects of Penetrex. This cream gets better with time, and the more you do use it, the less and less you will need to in the future, and you'll find that you can do much more you couldn't do before, I will guarantee you. From what I was able to get from a survey, I understand that people have their own preferences; and anyone willing to overlook the size of the container, see it for it's hard worked 8 year best acting formula.