Hello folks, and welcome!
For those who do not know me, my name is Michael Granados, a back pain specialist and large health and wellness advocate in my community as well as within the online world. I'm the guy who designed this platform, and the person you'll hopefully enjoy listening to for the next 10-minutes 🙂 (I really hope lol)
The purpose of todays intent is to introduce you to something far wide, robust, and highly capable of changing the future landscape of pain management as we know it-at least in terms of back pain.
What do I mean? OK, I will keep the promise of my own words I told myself about an hour ago, and I will cut right to the chase. It's November the 8th of 2018 today on a glorious evening here in Vancouver, WA, and I have no better place to be then to sit here in front of my computer and tell you about something other then removebackpain.com that I've been proudly and perfecting within this platform. Are you ready?
 Finally, It's Here!
For the pat 8 and a half months I've been developing my site, I have carefully designed a step-by-step system that will change the way you forever see how you can not only treat and find relief, but entirely keep your mild and severe back pain away, for good!. Stay with me now…
Without further a do. I Introduce to you:
The Remove Back Pain System
I'm with a great humbling attitude able to say that this is the only one of its kind that you'll see within the online and offline world. So what is it already!?
The Remove Back Pain System(or short for RBP), is a step-by-step easy for you to follow setup already guide that will recognize what step of the healing process you are in, and efficiently take you through your journey one article read at a time, until you've reached your destination.
Say what!? I know, it's either a bit confusing, or it's just not clicking yet. Allow me to elaborate. The one thing we all want is a healthier lower back. and a fruitful way to live, but we always seem to stumble at the start, towards the middle, and many of us never get to smell and see the finish line.
Why? That's because you and many others with similar issues are going about their treatment the wrong ways. I've been through it, and I continue to see it many times with my patients and many of my loved ones. The end result is always:
More painkillers
More conservative treatments
More visits to the doctor
More visits to a chiropractor
More visits to a physical therapist
More visits to a massage therapist
Spinal injections
Surgery
…And the additives are always a loss in confidence, loss in energy, loss in self-belief. I'm happy to tell you that I have your back this time.
With the confidence I have in the Remove Back Pain System, the words wouldn't even begin to mean enough. I've trialed, tested, and gone back to the drawing board just so I could line up everything better together. The awesome thing too is that you can start from where you need and end at where you need…
You don't have to progress further past your symptoms, and the extra work if you don't want to. But here's where things go up a notch.
Ideally, the Remove Back Pain System is designed to start you from Point A and navigate you all the way to Point Z, and this is because you'll get a larger view and a better perspective on how to treat your lower back pain now, in the long run, and to prevent it from coming back. Out of it, you'll get what I call the 4 Pillars to A healthy lifestyle, and they are:
How to exercise
How to eat better
How to improve your cognitive behavior
How to consume natural remedies
Based Upon you going from each article to article, you'll be taken through each and every one of these categories, in a step-by-step manner, and you'll at the end of it see what I've been meaning all along.
Who's The Remove Back Pain System For?
This part of the system Is for anyone, of any age, and diagnosis. If a man I had in his 60's here can do it, It's open for anyone to give it a shot. It can come off as a challenge, but if you ultimately want to change your severe pain and even very mild tempered pain, you'll live the ultimate lifestyle you want and once had.
Where Do I Push To Move Forward?
This wouldn't work right, and I would be acting dishonest If I tried to have you go page after page after page without giving you a chunk of content on just one single one. And so for that, I've made sure that what you read will cover everything on that single topic before you move onto the next article.
At the bottom of each article in bold words you will see 2 different avenues(or roads as I like to call it). You'll get two ways to progress based on the conditions of:
Acute and Sub-acute pain
Chronic lower back pain
Sometimes there will be a third Like for Sciatica, but that's included with the chronic side of things. Anyways, it'll ask you something like this:
You'll see something similar to the above picture at the end of each and every article, and when there is no start here button, you'll get links that look like these:
In the case of this one, you'll see one link and that's because an acute back pain and chronic back pain journey are merged in one.
OK What are the Costs Michael?
Now you're probably thinking, Great, a system that will likely have a purchasing agreement, or a program that can take years to get right". Let me tell you, that is certainly not the case. I've made sure I put you in the greatest hands a man like me can offer you that from experience of treating my own lower back pain, I learned that you don't need to make purchases or at the smallest scenario something inexpensive.
I've 1. given you the tools from Step A to Step Z to ensure you can first follow through without seeing a future product, and 2. layed out the products on your journey just in case you might need them.
My imagination proceeded me, and then it doesn't…
In reality not everyone has the same back pain, it varies from you to the next person, and the treatment can be parallel and perpendicular. I understand better than most people, that we sometimes need the help of conservative treatments to get us through, and push us through our:
Mornings
Afternoons
Evenings
Nights
For example:
There was a stage when I was getting over the chronic lower back pain in my disc and hip pain that I couldn't go right into a stretch an exercise by myself. Yes I had physical therapist right next to me, but what I'm talking about are tangible treatments. And the one I needed to use were pain relief creams, A KT Tape bandage or something more.
The point is we sometimes need a buddy there to give us a hand(besides me), and we can't get into our exercises, a walk, or a day of work and activities without these support tools. There's no shame in needing them, but I'll tell you what, you'll see how you start to use them less and less, and learn how not to depend on them. Before you know it, you'll be on your own two feet.
When Can You Start?
Before I jump ship into how you can get started(coming up next), I want to advise a couple things. Always, and I repeat always, check with your doctor or medical professionals you see before attempting to do any of this on your own. If you have the green light, All I ask is that you give it your best effort! Like I said…
If you stick to the four pillars of a healthier lifestyle, it will take more work(especially for us with chronic pain), but the rewards will be overwhelmingly positive.
Where To Start?
Embarking or embark, what does that mean?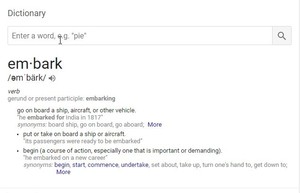 Every definition is an exact representation, but take a look at bullet point #2 in parenthesis. "A course of action, especially one that is important or demanding". So let me ask you…
Is treating and removing your back pain one that is important or demanding? You can only answer that for yourself. But I think you and I both know what needs to get done.
You are the vehicle, your back is the engine, and your mindset is your motor. If you fuel your mind with the right information and keep supplying it with maintenance, you'll eventually build better habits, and have a formula 1 engine.
I would like everyone, regardless of where they feel they need to start, for them to begin at point A, and go from there. Why? You'll learn about your symptoms, diagnosis, and so much more about back pain before getting to your next pit stop.
If at any point, and I really mean any point, you would like to reach out to me and ask me a question, tell me about a concern you're having, or if you want to offer me an opinion, please leave me a comment below or you can contact us on our contact page right here.